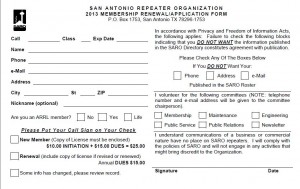 2013 Membership renewals and new member applications are now being accepted. Please download and print a copy of application. If your call sign has renewed / changed, or if you are a first time member, please include a photo copy of your license attached to the application form.
Membership in SARO is $15 a year, per person, plus $10 application fee for the first time you join.  If you've been gone awhile, for whatever reason, you don't have to pay that $10 application fee to renew your membership.
Click here for membership application.
We need  you to include a copy of this application form for all renewals, don't just mail a check or your renewal may get delayed until we match it up with an application form.  Application forms are always available at our quarterly meetings.